We'll Make Your Pool Brand New Again
Unfortunately, pool finishes and design trends don't last forever. Over time, your plaster pool will crack, flake, and perhaps even require significant renovations.
That's where PoolMaxx comes in. We are Houston's most experienced pool company with family-owned service that you just can't find from other companies.
We have a dedicated pool renovation team ready to work with you and design a new, updated pool look that will fit your style and budget.
The team at Poolmaxx is standing by and ready to provide top-quality pool renovations at a reasonable cost, so give us a call today at 832-593-6299.
If you are looking for an energy-efficient pool with stunning beauty, you may be interested in these pool upgrades:
State-of-the-art, energy-efficient pool plumbing, pumps, filters, and heaters
Smart Pool Automation & Sanitization Systems
Saltwater Pool Conversion
Robotic Vacuum Cleaners
High-Efficiency LED Pool Lighting
Luxurious, dark pool finishes to draw in heat
Solar Technology
For pool upgrades that pack a visual punch, check out:
Updated Pool Finishes such as Pebble Tec, Wet Edge, natural stone, and more.
Upgrading waterline tile and adding mosaics
Adding Water and/or Fire Features
Updating your pool coping
Upgrading to fiber-optic LED Pool Lighting
Add structural improvements such as tanning ledges, underwater seating, a built-in table and benches, rock formations, and more.
Updating your pool's plaster and finishes will provide many more years of use and beauty for your backyard oasis.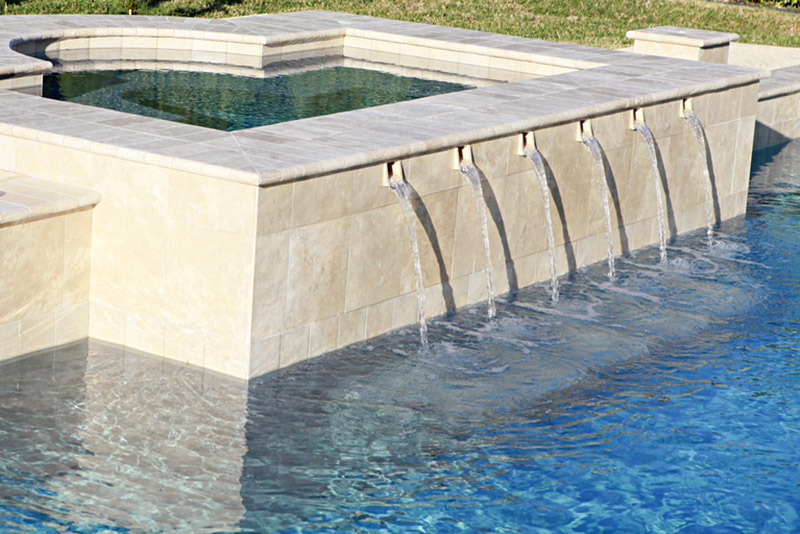 Some of the most impressive and relaxing features you can add to your pool for the money are water features.
Refreshing your pool's tile with more modern materials such as glass can breath new life into an outdated pool design.
Choose the Expert Pool Remodeling Team at Poolmaxx, Inc.
The pros at Poolmaxx have been offering top-rated pool remodeling and renovation services to the greater Houston area for more than 20 years. Our certified professionals are experienced with everything from your basic replaster to an entire backyard renovation.
Give us a call today at 832-593-6299 to schedule your no-obligation pool remodeling estimate.