Let's Define the Look of Your Pool
Pool tile color, size, and material can literally define the entire personality of your pool. That's why PoolMaxx is proud to offer our clients a massive selection of premium pool tiles from manufacturers like NPT, Mastertile, and more.
Your pool's tile can completely change the aesthetics of your backyard but did you know that they offer a functional purpose as well? The waterline tile in your pool is there to help prevent discoloration from things like pollen, body oils, sunscreen, and more.
From traditional porcelain tiles of premium quality to shimmering glass tiles in a myriad of colors, PoolMaxx sells and installs the exact style of pool tile that you are looking for. As one of Houston's most trusted pool remodeling companies, Poolmaxx offers over 20 years of experience installing and replacing swimming pool tile.
Call the pool tile pros today at 832-593-6299 to schedule your no-obligation pool tile consultation.
Benefits of Installing Ceramic Pool Tile
Ceramic pool tiles are a great, affordable option for any family's swimming pool and come in many different colors, textures, shapes, and sizes. Ceramic tiles are easy to maintain and provide a very durable finish to any pool. The recommended life expectancy for ceramic pool tile is 10 to 15 years but it is not uncommon to see them last much longer.
Benefits of Installing Glass Pool Tile
Glass pool tiles are a wonderful choice for anyone wanting to get that premium look in their pool. Glass tiles tout some of the best longest life expectancy and durability amongst all pool tile finish options. Your imagination is the only limiting factor when remodeling your pool using glass tiles due to the large selection of colors, mosaics, shapes, and more.
Our Additional Pool Remodeling Services
Updating your pool's plaster and finishes will provide many more years of use and beauty for your backyard oasis.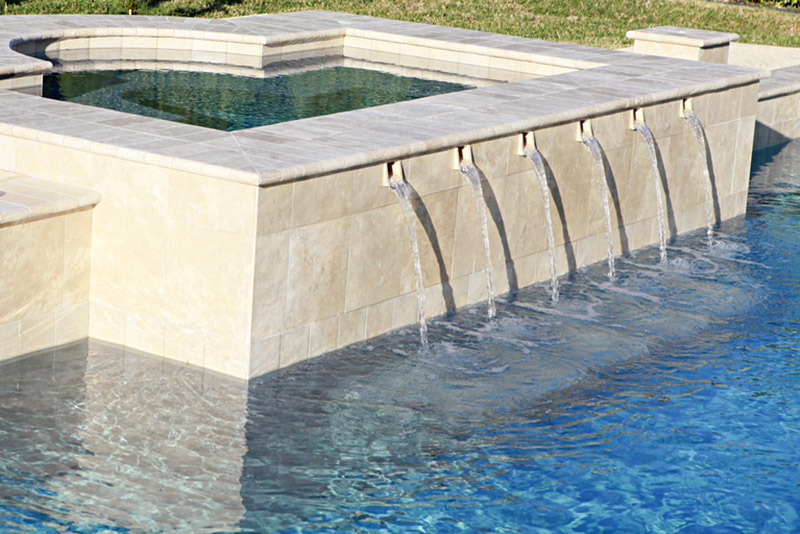 Some of the most impressive and relaxing features you can add to your pool for the money are water features.
Honest Pool Tile Installers with Experience
Whether you are just replacing damaged, outdated tile or you are wanting a complete refresh on your entire pool, Poolmaxx has a team of experienced pool remodeling technicians standing by to help you. We have been proving pool tile installation and replacement services to the greater Houston area for over 20 years and would love to add you to our long list of satisfied customers.
If you are looking for pool tile installation or replacement, give Poolmaxx a call today at 832-593-6299 for your no-obligation pool tile consultation.