It is time to refinish your pool plaster?
Plaster is the most common type of finish on concrete pools. Older pools generally have a plaster finish that has a coat of paint on it, however, over the last few years, new finishes have been developed using glass beads and quartz which give your pool an ultra-luxurious look. Newer pools generally have either a plain white plaster or an aggregate plaster finish composed of quartz or pebbles.
Adding a premium finish with a new color to your pool can completely transform your backyard experience. At PoolMaxx, we have a wide variety of pool finishes like DiamondBrite, Pebbletec, Stonescape, and more.
If you are looking for high-quality pool plaster and resurfacing, give us a call today at 832-593-6299 for your no-obligation pool resurfacing estimate.
How Does Pool Resurfacing Work?
Pool resurfacing, or pool replastering, is a process that must be done properly by trained professionals to ensure the new plaster will adhere to the structure of the existing pool. It is imperative that any paint is removed by sand or water blasting and that the underlying surface is properly prepped with a bond coat for the new plaster. Depending on the size of the pool, most pools take approximately 3 to 4 days to prep and plaster, then have to be filled with clean water with a low metal and mineral content.
After filling the pool, it is imperative the proper procedures are followed to ensure the plaster cures properly. This process involves brushing the plaster and testing the water chemistry multiple times a week for 28 days. Though this is a process a homeowner can handle, you can have us take care of it for you with our expert pool remodeling and pool plaster resurfacing services.
All of our plaster work is done by our in-house pool remodeling professionals, and we offer a rock-solid installation warranty. Call us at 832-593-6299 for a fast, no-obligation pool plaster estimate.
Check out the Pool Surface Finishes We Install
Like anything else with your pool, you have many options when it comes to the plaster you choose. Different pool finishes offer different benefits and knowing the differences between them can help you make an informed decision during your replastering process.
This is one of the more common pool finishes for its durability and affordability. Tradition pool paster is generally made from a combination of cement and marble sand and has been the standard for decades. Typically, you see this finish in shades of white and gray but the color can be customized to your preferences by adding tints and dyes to achieve the perfect look. You can expect a lifespan of as long as 15-20 years with traditional pool plaster if taken care of properly but do note that plaster could require more ongoing maintenance than other premium options.
PebbleTec has really grown in popularity over the years along with other natural stone-type pool finishes. This is going to be considered more of a premium pool finish with tons of options for texture and colors. The natural stone finish offers a great look and a secure, durable surface that adds to the overall beauty of your pool. Aggregate stone pool finishes such as PebbleTec should last you up to 20 years with the proper maintenance.
The pool finishes from WetEdge are also an aggregate type finish but unlike PebbleTec, these finishes are comprised of both natural and synthetic stone as well as other materials such as colored glass. This type of finish also offers great durability, beauty, and texture. WetEdge, similar to other aggregate finishes, offers a lifespan of about 20 years with the proper maintenance.
Diamond Brite Pool Finish
Diamond Brite offers exposed aggregate pool finishes compromised from a blend of select quartz aggregates and white Portland cement. This offers you an extremely durable and attractive finish with tons of great texture. You can get Diamond Brite finishes in a large variety of colors, textures, and additional aggregates depending on the level you choose. This type of pool finish offers a lifespan of about 10 – 15 years with proper maintenance.
NPT JewelScape, StoneScape, and QuartzScape Pool Finish
NPT offers a series of pool finishes in the aggregate category that combine Portland cement with elements like stone and glass. They offer several lines with lots of customization to choose from that ranges from different tints added to the cement as well as different material in your aggregates such as quartz, natural stones, glass, and more. As with the other aggregate finishes, these provide a beautiful-looking pool with great durability and relatively low maintenance. With the proper maintenance, you can expect a lifespan of about 10-20 years from these finishes.
Our Additional Pool Equipment Repair Services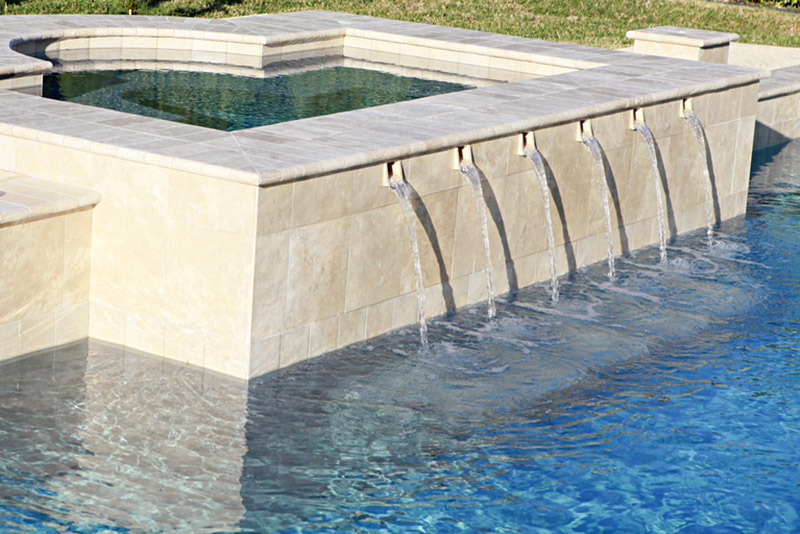 Some of the most impressive and relaxing features you can add to your pool for the money are water features.
Refreshing your pool's tile with more modern materials such as glass can breath new life into an outdated pool design.
Professional Pool Resurfacing You Can Count On
Poolmaxx offers more than 20 years of experience refinishing pools in the greater Houston area. Our certified pool plaster technicians can sit down to review your options and help you choose the perfect pool finish for your family. We offer an unbeatable workmanship guarantee along with outstanding manufacturer warranties on the pool finishes we provide.
Give us a call today for your no-obligation pool surfacing consultation at 832-593-6299.